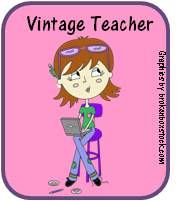 Paying Tribute to Pamela Wood of the Vintage Teacher on Freebie Friday. Thanks for helping to pave the way for those that have come after you.
Pamela's family requested that her items on
Teachers Notebook
all be offered FREE in her honor.
I keep this poem by my desk, especially for those days I forget...I thought it was appropriate here.